Do think you don't have time to do paper crafts? you are not creative? don't know where to start? Well Stampin' Up! has created a kit of the month subscription just for you! There is no minimum subscription, you can opt out a month at a time, and end you subscription any time. How can you lose! The cost is only $19.95 per month (which includes shipping) and you will receive everything to complete your project: directions, card stock, ink, stamp(s), embellishments and anything else you need except adhesive. Time to complete the project is thirty minutes. The kits will start shipping mid March. Subscribe at www.mypaperpumpkin.com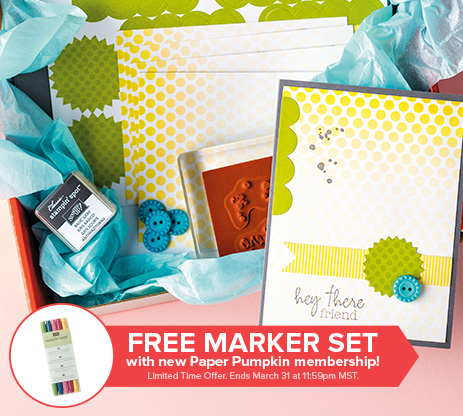 Get Me Now!
All you need is your magic wand
(credit card)
to sign up.
(Get it now.)
I'm the total package:
• I'm

$19.95

(and shipping is covered).

I'll arrive monthly
(and no, I'm not talking about your… you know).
• I've got all the stamps, ink, paper, and accessories to create pinable projects. Projects like cards, journals, décor, and more!
• I'm all cut, measured, and ready—with instructions included.
• I'm a new and exciting surprise every month.
Subscribe today at www.mypaperpumkin.com